When the whole of the Marvel Cinematic Universe has been thrown into chaos, and our heroes are literally crumbling, where else can you go, but back in time? Captain Marvel is set in the 90's, and therefore it is technically a prequel to the Marvel movies we have seen so far – taking things in a whole new direction with a hero that is more powerful than any other we have previously encountered.
Written and directed by Anna Boden and Ryan K. Fleck (whose other credits include indie films such as Half Nelson and Sugar) Captain Marvel was a big undertaking, as it is an important addition to the MCU. This film essentially is the start of something new, that fleshes out the wider universe which we assume will feature more heavily later on. Taking on the huge responsibility of writing and directing a Marvel movie would be daunting, yet as Taika Waititi showed us with Thor: Ragnarok, sometimes indie filmmakers will bring that certain secret sauce that's going to elevate the whole recipe. Boden and Fleck definitely come through with the goods!
So far, the universe has already been blown wide open with the Thor movies, and of course Guardians of the Galaxy. With such a huge franchise and so many beloved characters already in existence, just slotting a new and all-powerful figure into the timeline would seem a little strange. Yet, the whole premise of Captain Marvel really works so well.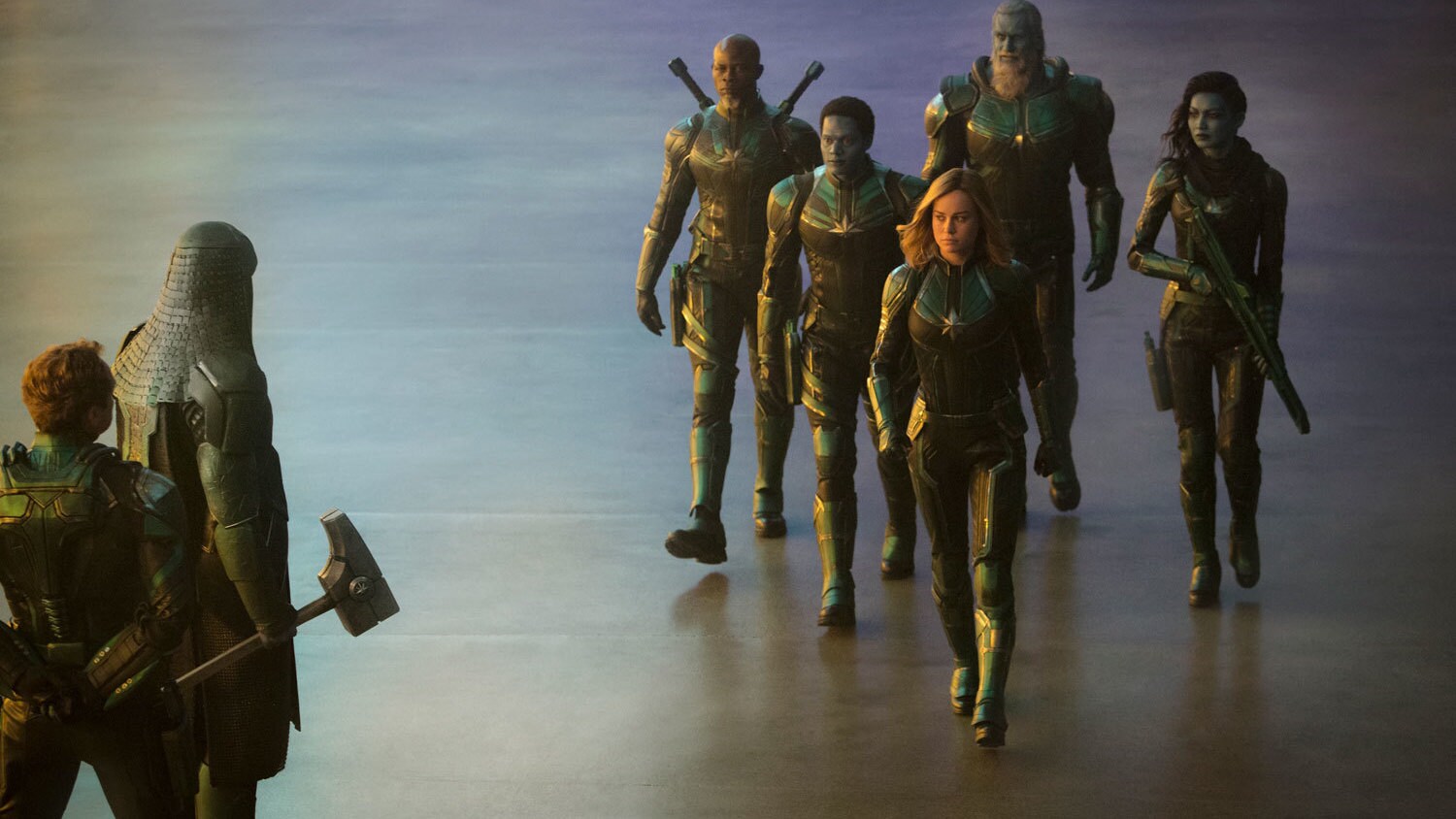 Captain Marvel (Brie Larson) first appears as one of a handful of agents, working with a group of elite space military on a planet called Hala, the Kree homeworld. The Kree seem to have it all going on, with plenty of flashy tech and cool matching outfits. The team is led by the authoritative Yon-Rogg (Jude Law), and the woman we know to be Captain Marvel is referred to as Vers. We quickly learn that the Kree are at war with the Skrull, a shape-shifting alien race. The Skrull can take on the shape and even the voice of anyone, which makes them the perfect infiltrators, and a big threat.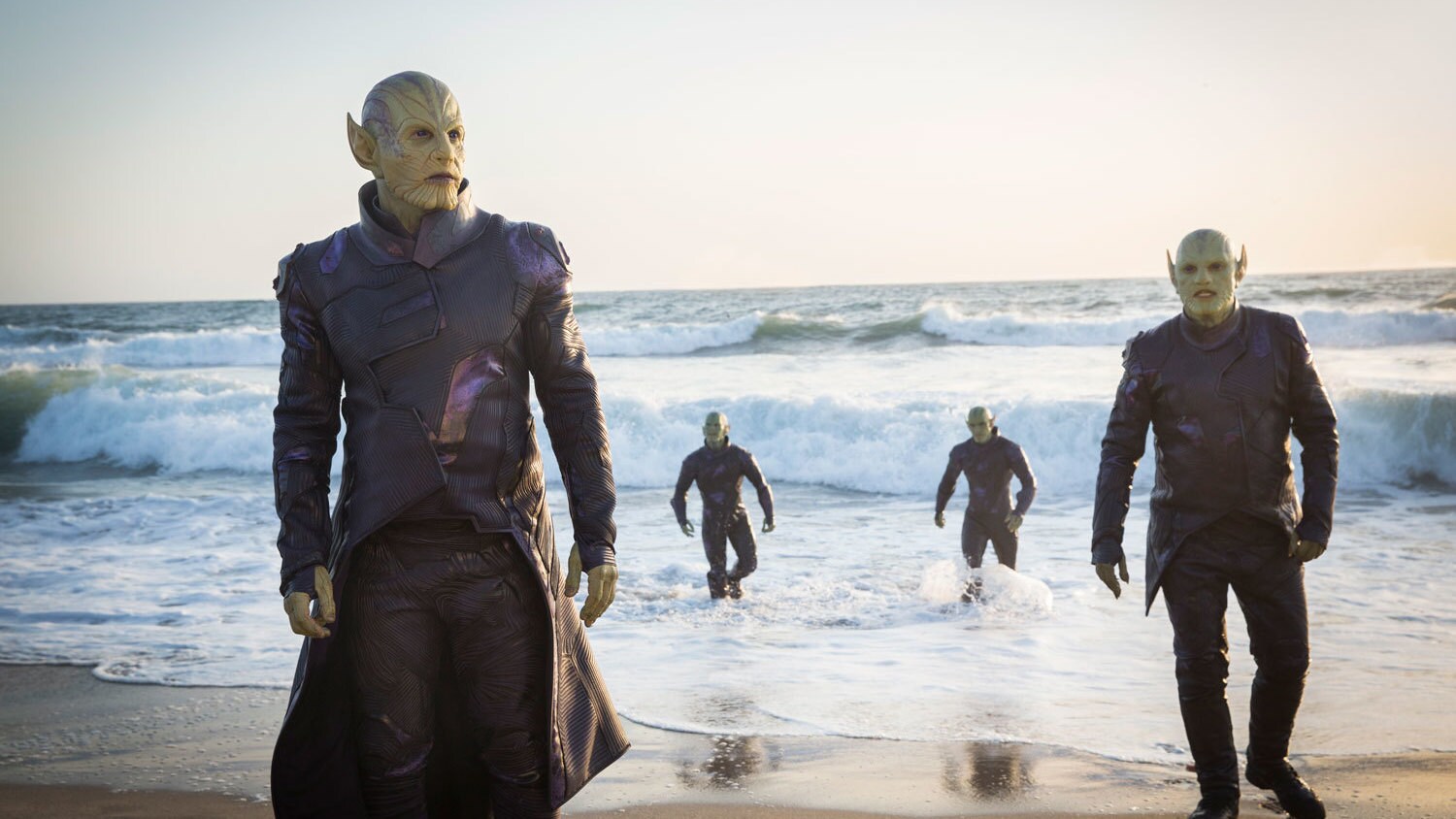 Vers is captured by the Skrull, and they get to work at trying to extract information directly from her brain. This process unlocks flashbacks for Vers, and she begins to have memories of her previous life as a fighter pilot from Earth in the 1990's, and our hero soon sets out on a mission of uncovering the truth of her past. Landing on earth, in the middle of a Blockbuster Video, Vers meets S.H.I.E.L.D agents Nick Fury (Samuel L. Jackson), and a rookie Agent Coulson (Clark Gregg). Vers is the first super-human Fury has ever laid eyes on, and he naturally becomes embroiled in the mystery and adventure. Jackson gets to really amp it up as Fury, and we learn more about a character that only features in minor, although regular, instances in the other films.
As a child of the 90's, there were so many things about Captain Marvel that I related to, not only the soundtrack but also the subtle movie references, and Carol Danvers herself. There seemed to be a few nods to uniquely 90's things that felt like in-jokes between the filmmakers, the characters, and those of us who were 90's kids. From the dial-up internet cafe with Alta-Vista search engine, waiting for an audio file to load from a CD-ROM, to Carol's grunge aesthetic (an outfit I would have actually worn, except my Nine Inch Nails tee was black). Maybe my brain was trying to find references, but I got some Point Break vibes when the Skrull landed on the beach and disguised themselves in wetsuits, and when Carol acquires a motorcycle, this felt like a nod to Terminator. There was also the soundtrack, which featured predominately female alternative musicians, and worked so well to set the tone.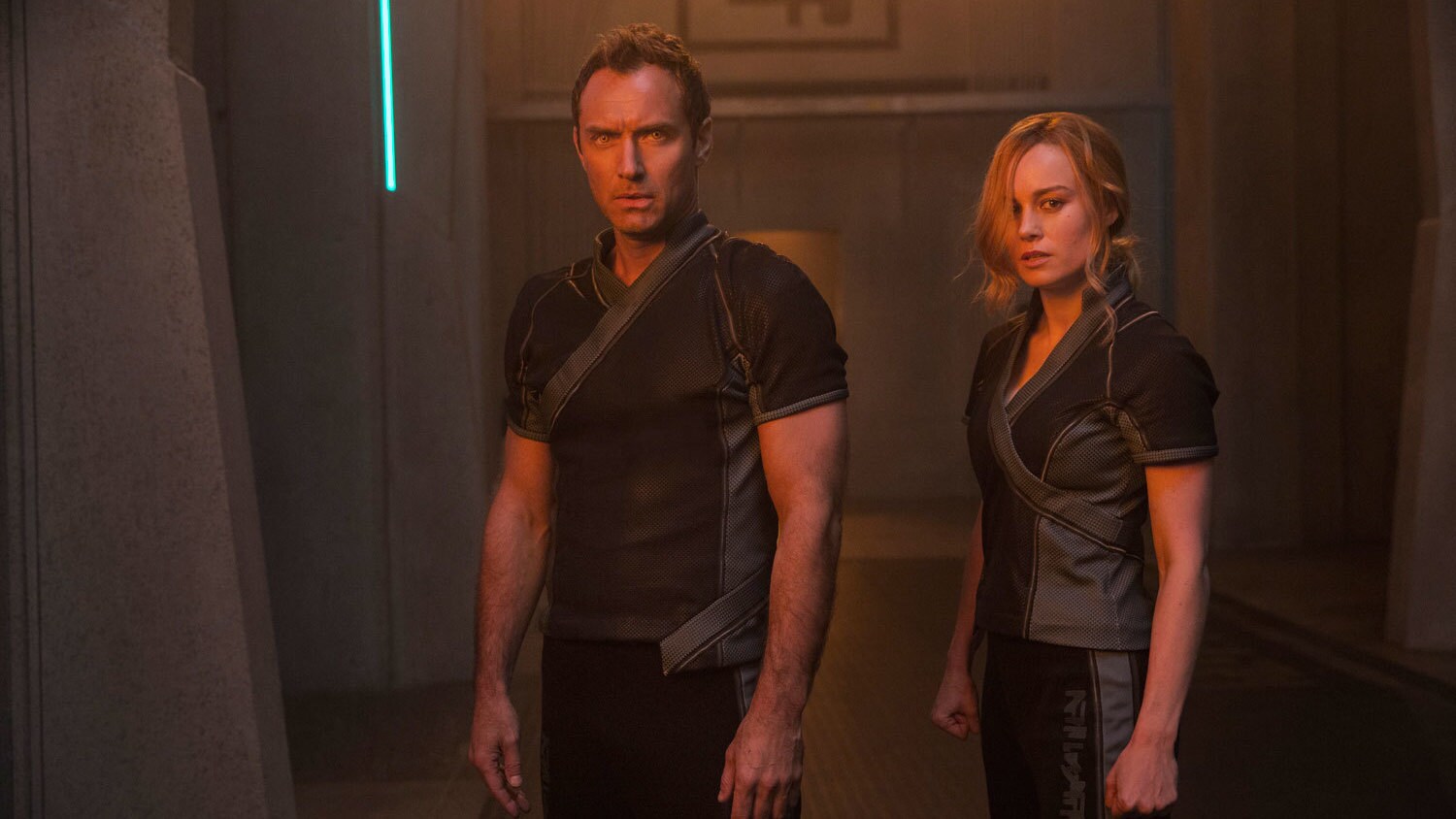 These little touches really elevated Captain Marvel to more than a typical action-adventure. I also really loved the way the story was told. This was the first Marvel movie with a female superhero in the lead, which is hard to fathom considering that this is film number 21 from Marvel! Larson as Carol Danvers creates a very likable character, and despite her having epic cosmic powers, it is still easy to identify with her because she is so human. The most likable and unique aspect of Captain Marvel is that for a superhero origin story, it did not waste time and energy on any of the usual emotional, human issues that serve simply to propel the lead character into action. Captain Marvel is driven to act in order to find her truth, not because her beloved family member is murdered, or because she has been entrusted with a great destiny. She is a hero despite her powers – she has nothing to prove – and this is a message that really resonates.
Sure, Captain Marvel is an impressive cosmic romp, full of action, and some great one-liners but it is also the beginning of something new and wonderful for the Marvel Cinematic Universe.
Captain Marvel is in cinemas around the country from today!